Entertainment
Entertainment Schedules
Download January 2015 Entertainment Schedule
Download February 2015 Entertainment Schedule
ARTIST BIOS
Lynn Hilton


In the spirit of the legendary Sarah Vaughn, Carmen McCrae, and Nina Simone, the baton has not only been passed but the banner flies high and steady in the capable hands and voice of Lynn Hilton.
Composer, Arranger, Vocalist, Instrumentalist, Music Director, and Educator – she continues to expand of her proven track record of professionalism, creativity and charisma. This modern day Renaissance woman is one of most sought-after musicians in the industry. Ms. Hilton energizes her audiences with charismatic and exciting performances, both nationally and internationally.
According to Russia's St. Petersburg Times: "Lynn Hilton captivates the most demanding audiences with her innovative style and wit."
Beginning her career as a teenager, she was appointed musical director for the KUUMBA repertory theater in her native Chicago. She represented the U.S.A. in the International Festival of Song and Voice competition where she was awarded "Best Arrangement" and "Best New Composer" honors.
Ms. Hilton continues her long distance work on behalf of American Theatrical companies by serving as musical director in absentia for several theatrical productions including Fences, and Jitney. She continues her hallmark of excellence as composer of several theatrical scores, including Kasimu and the Coconut Palm, and Thunderstorm by award-winning playwright Shongodina Ifatunji.
Continuously working the live jazz scene, Ms. Hilton is one of the most sought-after performers on stage and in the studio with her versatile repertoire that includes Jazz, Blues, Latin, Gospel, and today's contemporary music. She has shared her unique performances with fans in many countries in the Caribbean, Far East, Middle East, South America, Africa, and Europe. Her unique keyboard and extraordinary vocal styling has resulted in her affiliation with a variety of luminaries including Sherry Scott, Morgana King, Jonathon Butler, Marion Meadows, Hugh Masekela, and Steve Winwood.
As a composer Ms. Hilton has written and arranged many national television and radio commercials often serving as composer, contractor, pianist, vocalist and voice-over announcer.
In every generation the universe catapults a special star that blazes a new path. That special star is Ms. Lynn Hilton. Catch her rising star and treat yourself to the colors and sounds of this extraordinary pianist and singer.
Fred Simon

Fred Simon has been making music for more than forty years, composing for records, live performance, film, dance, and television, with instrumentation ranging from solo piano to symphonic orchestra. Since childhood he has been convinced that he is a singer/songwriter trapped in the body of someone who can't sing.
His recorded work includes seven albums of original music under his name: SHORT STORY and TIME AND THE RIVER (Quaver), USUALLY/ALWAYS (Windham Hill), OPEN BOOK (Columbia), DREAMHOUSE (The Naim Label), REMEMBER THE RIVER (The Naim Label), and, most recently, SINCE FOREVER (The Naim Label); three albums (as principle composer) with the Simon and Bard Group: MUSAIC, TEAR IT UP, and THE ENORMOUS RADIO (Flying Fish); as well as TWILIGHT (NorthSound Music Group), a collaboration with reed player Paul McCandless and guitarist Teja Bell; THE MUSIC OF THE BEACH BOYS (NorthSound Music Group), an album of solo piano arrangements of Brian Wilson songs; and numerous appearances on compilations released by Windham Hill, Columbia, Narada, Private Music, Imaginary Road, NorthSound Music Group, Jazziz Magazine, and, currently, The Naim Label.
Fred has recorded and/or performed with Ralph Towner (founding member of Oregon), Paul McCandless (founding member of Oregon), Larry Coryell, Lyle Mays, Iain Matthews (founding member of Fairport Convention), Jerry Goodman (Mahavishnu Orchestra violinist), Steve Rodby and Paul Wertico (both with Pat Metheny Group), Bonnie Herman (Singers Unlimited), Kurt Elling, Fareed Haque, David Onderdonk, Ingrid Graudins, Ross Traut, The Stan Kenton Orchestra, and many others.
Calvin "Koco" Brunson
With jazz, blues and musical theatre the major focus of his work, Calvin "Koco" Brunson has collaborated with the late, great playwright, Oscar Brown Jr. in writing plays entitled In De Beginnin', Journey Through Forever, and Sliced Apple. Koco is also an "Artist-in-Residence" with Urban Gateways. Calvin "Koco" Brunson is a world-class musician, possessing deft keyboard skills and utilizing truly inventive harmonies to reach his audience.
Carmen Stokes

One of the many women pianists who started out playing classical but went to jazz in her early teens, Carmen Stokes is a stunningly beautiful pianist of great energy, versatility and enterprise. As a Composer, Arranger, Instrumentalist, Vocalist, Educator and Music Director, Stokes incorporates jazz, gospel, blues, classical and Latin forms into her music. She has constantly sought out novel directions to express her ideas.
Stokes' multiple solo efforts and countless guest performances are recognized by both her peers and the knowing public as a first class musical artist. Stokes has performed nationally and internationally as a trio/quartet, pianist/vocalist, along with gracing the stages of legendary artists including the likes of Dizzy Gillespie, Herbie Hancock, Prince, and countless others. Stokes was personally contacted by Ramsey Lewis, Chicago's own legendary jazz pianist, who requested her to perform on his behalf at the Chicago Jazz Awards because he was scheduled to perform in London. Lewis stated, "I only trust two people in Chicago to play my songs right and you're one of the two". Stokes honored Lewis' request and received roaring applauses and a standing ovation for her tribute to Lewis. In an article written by Howard Reich, arts critic for the Chicago Tribune, Stokes was tagged as being, "One of the more effective jazz pianists working in the Ramsey Lewis tradition." Stokes' vocal styling were compared in JazzChicago.net to the likes of jazz vocalists Nancy Wilson, Diana Krall and the late Phylliss Hyman.
Stokes started playing piano at the age of six. Stokes' classical studies were completed at Indiana University in Bloomington, Indiana and her jazz studies were completed at Long Island University in Brooklyn, New York, while working with Dizzy Gillespie. Throughout Stokes' career, she received numerous accolades and first place awards in classical and jazz and one of her more memorable accolade came when Joe Sample, one of Stokes' greatest idols, recognized her talents and awarded her first place in the category, "Best Jazz Soloist," at the Notre Dame Jazz Festival.
Stokes continued her solo career in traditional jazz but found herself yearning for her love for R&B, Funk and Latin forms, and began integrating them in her acoustic piano playing funky and rhythmically appealing qualities. Stokes recorded two successful CD's entitled, "Sexy Feelin'" and "Words Of Wisdom" which were sold nationally and internationally. Stokes' CD's were in such high demand that she found herself with a full performance schedule which included sending her to Singapore where she played to "Standing Room Only" (SRO) audiences. Upon returning to the United States, Stokes was still in high demand continuing to perform at venues with SRO audiences.
In 2003, Stokes' career was derailed from a tragic automobile accident which resulted in a an uncertainty as to whether or not she would be able to walk again let alone play again. After 3½ hard years of rehabilitation, Stokes proudly recovered and returned to the piano. She continues her piano/vocal career by wowing audiences through a style that is uniquely her own. Stokes' motto, "Music comes from the heart and if what lies within your heart is true and genuine, your music will be true and genuine.
Sami Scot

Sami grew up in a musical family in north St. Louis, Mo. At the age of 10 Sami began performing in a band with her sister. By the time she turned 16, she displayed all the earmarks of a seasoned musician. Her musical influences have been and continue to be broad and eclectic. Scot's style has been described as strongly soulful and sincere. She is often compared to Carole King, Norah Jones and Dinah Washington. While playing in Nevada B.B. King dubbed her the "little song bird."
Sami has rightfully earned the respect of fellow contemporaries, both here and abroad. Sami, at twenty years of age, was spotted by a producer from Splendid Music France while performing with her trio in St. Louis. She was invited to record and then tour southern France with Michele Simonet for S.U.D. (a well respected privately owned radio station.) Her single debuted on the Bulls Eye Record Label. Sami's talents have been witnessed by thousands throughout Europe, Scandinavia and Japan. She is also a veteran of World Class cruise line entertainment with engagements on the five star Royal Viking line.
Stateside, Scot has entertained the masses at San Francisco's famed Mark Hopkins hotel. She has also appeared at various Nevada casinos. Her musical craftsmanship has been recognized by such legends as Robert Plant, Waylon Jennings, and Kenny Rogers.
Sami Scot eventually returned to the midwest and settled in Chicago where she resides with her husband and two daughters. Her first job in Chicago was to set the mood during the cocktail set at the very prestigious Pump Room for Ike Cole, which she did masterfully. Throughout the years, Sami has entertained at many other top venues through out the Windy City, with extended runs at the Coq D'Or at the Drake Hotel, Carmine's on Rush, and many of the top venues in the downtown area.
Sami Scot has written and recorded material for corporate concerns, including several jingles for Chicago based Canfield Soda, St. Johns Hospital in Minneapolis, and live webcasts for Sears.
Sami Scot is currently recording an album of originals slated for a 2013 release.
Larry Hanks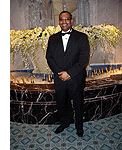 Larry Hanks is an accomplished pianist, composer, orchestrator, conductor and college professor. He earned his Bachelors and Masters Degrees at University of Illinois at Chicago. To listen to Larry play is an opportunity to explore his soul and share in his love and compassion for music, as he brings to the stage the sum total of his life's experiences. Larry's many accomplishments include scoring and conducting the orchestra for renowned Soul artists Curtis Mayfield's and Jerry "The Iceman" Butler's "Reunion Tour." In the late 70's and 80's, He and his first writing partner, Rodney Massey penned songs recorded by nationally and internationally known artists such as Smokey Robinson, The Temptations, Melba Moore, The Stylistics, The Emotions, Dee Dee Sharp-Gamble, Jerry Butler, and their own group, OMNI, hitting the Billboard charts regularly. As a young man in his early 20s, Larry was chosen by Jerry Butler to conduct his orchestra, which consisted of a six-piece rhythm section, three background vocalists, and was often augmented by local orchestra players that would include nine horns and seven string players from various cities along the tour. In the 90's Larry found another writing, and ultimately life partner in Ms. Joan Collaso. They've traveled parts of the world, created, and played music together for the last 18 years. Larry has been the resident pianist for the Four Seasons Hotel in Chicago since 1995. And in 2006 his wife, Joan Collaso became the first featured vocalist for Four Seasons, entertaining audience from every part of the globe. And if you're in town you can bring in 2010 with Joan Collaso and The Larry Hank Orchestra at the Four Seasons' New Years' Eve party!